From BikePortland.org
Oregon 99W Victory Blvd – N Argyle St Project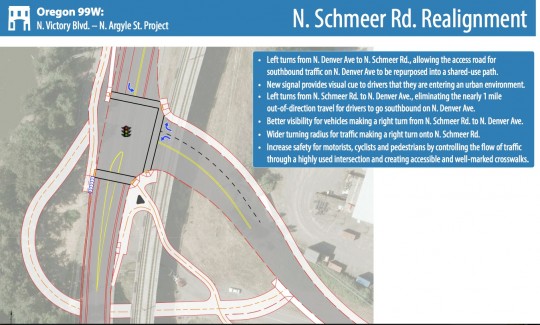 This is way cool for folks headed to PIR for racing as well as users of the Denver Avenue Viaduct and the Columbia Slough multi-use path.
From the ODOT official project page.
BENEFITS
The paving and bridge work will extend the life of the bridges and roadway. Pedestrians and bicyclists will
enjoy facilities that will have better connectivity in the Delta Park area as well as to the 40 Mile Loop. The
realignment of N. Schmeer Road and addition of the traffic signal will allow for a safer right turning movement
for drivers continuing northbound on N. Denver Avenue and eliminate the 1 mile out-of-direction travel for
drivers going southbound on N. Denver Avenue. The project improvements will create a safer experience in
the corridor for all users.